CORONAVIRUS #COVID-19 INTERVIEWS:
The Coronavirus pandemic is now a global crisis. There is certainly a lot of confusion about what is fact versus fiction regarding this novel virus. We all continue to learn more about COVID-19 on a day to day basis. Remember, you can obtain all of the latest information about this pandemic on the CDC and World Health Organization websites.
Check out all of my media interviews about the coronavirus COVID-19 below. 
---
---
---

Sorry, But Doggy Style Sex Isn't Really Safer Than Missionary When It Comes to Spreading COVID
And all your other questions about whether safe sex is possible while social distancing, answered.
by: Carina Hsieh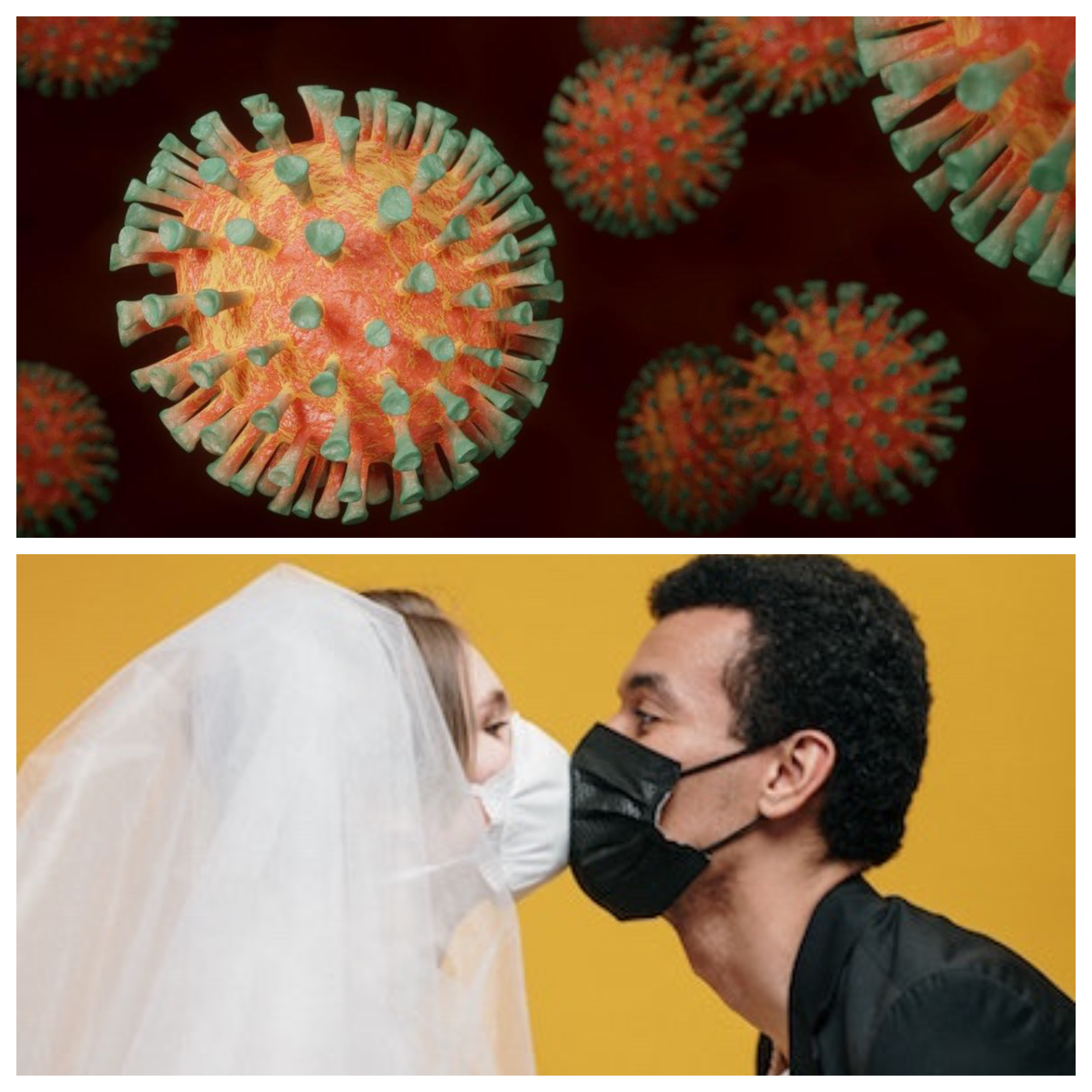 First things first, is it safe to go out and have sex with a new partner rn?
Hate to break it to ya babes, but no. As Dr. Nesochi Okeke-Igbokwe, a NYC area physician explains, "physical distancing is not at all possible," during sex. "Having any contact with a new sexual partner is not recommended during these times," she adds, "However, the reality is that some people will have sex with new partners during the pandemic."
I get it — it sounds so depressing to hear that the most responsible thing to do is to not have any new sex partners during the pandemic, but when you consider the risks, it's just not worth it. Sex with a new partner can be dangerous for you, your partner, and anyone either of you may come into contact with when you consider the risk of transmission of viral particles from asymptomatic COVID carriers, explains Dr. Igbokwe. No matter what sex position you use, "your bodies will still come in close contact and there may be potential shedding of viral particles in the process." she adds.
Is doggy style safer than missionary position if you're trying to minimize breathing on each other during sex?
You might think that facing away from each other in doggy compared to the face-to-face position of missionary might keep you safer, but you can still transmit viral particles without being face-to-face. Remember, during sex in any position, you might get caught up in the moment and breathe heavily, scream, moan, or yell, which could release potentially infectious respiratory droplets in your partner's direction, says Dr. Igbokwe.
And while wearing a face mask is one added layer of protection, there's still some degree of risk involved when you are in such close proximity to someone, no matter the direction you're facing, says Dr. Igbokwe.
"If one must choose between masked doggy style versus masked missionary, first it is key for both individuals engaging in sexual intercourse to acknowledge that there is still COVID risk involved in any close physical contact with a new partner irrespective of the sexual position," she explains, adding that "with that said, there may be a slightly lowered risk associated with masked doggy style on account of the reduced face to face interaction as compared to masked missionary."
But come on, if you can choose between masked doggy versus masked missionary for a consensual hookup, you can also choose to just…not meet up IRL in the first place. If the thought of you, your partner, or anyone you might come into contact with getting COVID and potentially dying doesn't keep you from wanting to stick to FaceTime sex for a bit longer, please reexamine your priorities.
If my partner and I both test negative for COVID and are only leaving the house to see one another exclusively, is it safe?
Unlike STI testing where if you get tested and then don't have sex with anyone between testing and can presumably hook up with your new boo safely knowing you didn't spontaneously pick up anything on the ride over to their place, it's not quite the same with COVID.
For one, it's important to remember that any COVID test results would be indicative of your status only at the time of testing, says Dr. Igbokwe. This means it's possible for you and your partner to test negative, only to have subsequent exposure to COVID elsewhere in the community, like on the subway ride, picking up essentials, etc., and then test positive afterwards.
Assuming you and your partner both tested negative for COVID and are only leaving your house to see one another exclusively, what is the ideal safest sex scenario during COVID? Doggy style, with masks on, in an open field?
The ideal safest sex scenario? Abstinence and other physically distanced options like virtual sex, says Dr. Igbokwe. "The bottom line is that if you are engaging in any form of sexual activity, you must absolutely try to minimize any risk of COVID spread." she adds.
---
---
---

20 Ways City Life Could Change Forever After Coronavirus
by: Elizabeth Yuko

Public restrooms could get a makeover
Between needing to wash our hands constantly and avoid high-touch surfaces during the pandemic—then later learning about fecal matter plumes—COVID-19 has made us rethink the concept of public restrooms. Nesochi Okeke-Igbokwe, MD, an internist and health expert, thinks that we may start to see some major changes in public bathrooms. "Automatic doors and sensor sinks to wash hands may be put in place to minimize the number of touchpoints in the restroom," she tells Reader's Digest. Dr. Okeke-Igbokwe also predicts that public restrooms in major U.S. cities might introduce personal protective equipment vending machines that sell supplies like face masks, hand sanitizer, and gloves.
---
---
---

12 Coronavirus Mysteries That Still Can't Be Explained
by: Lauren Cahn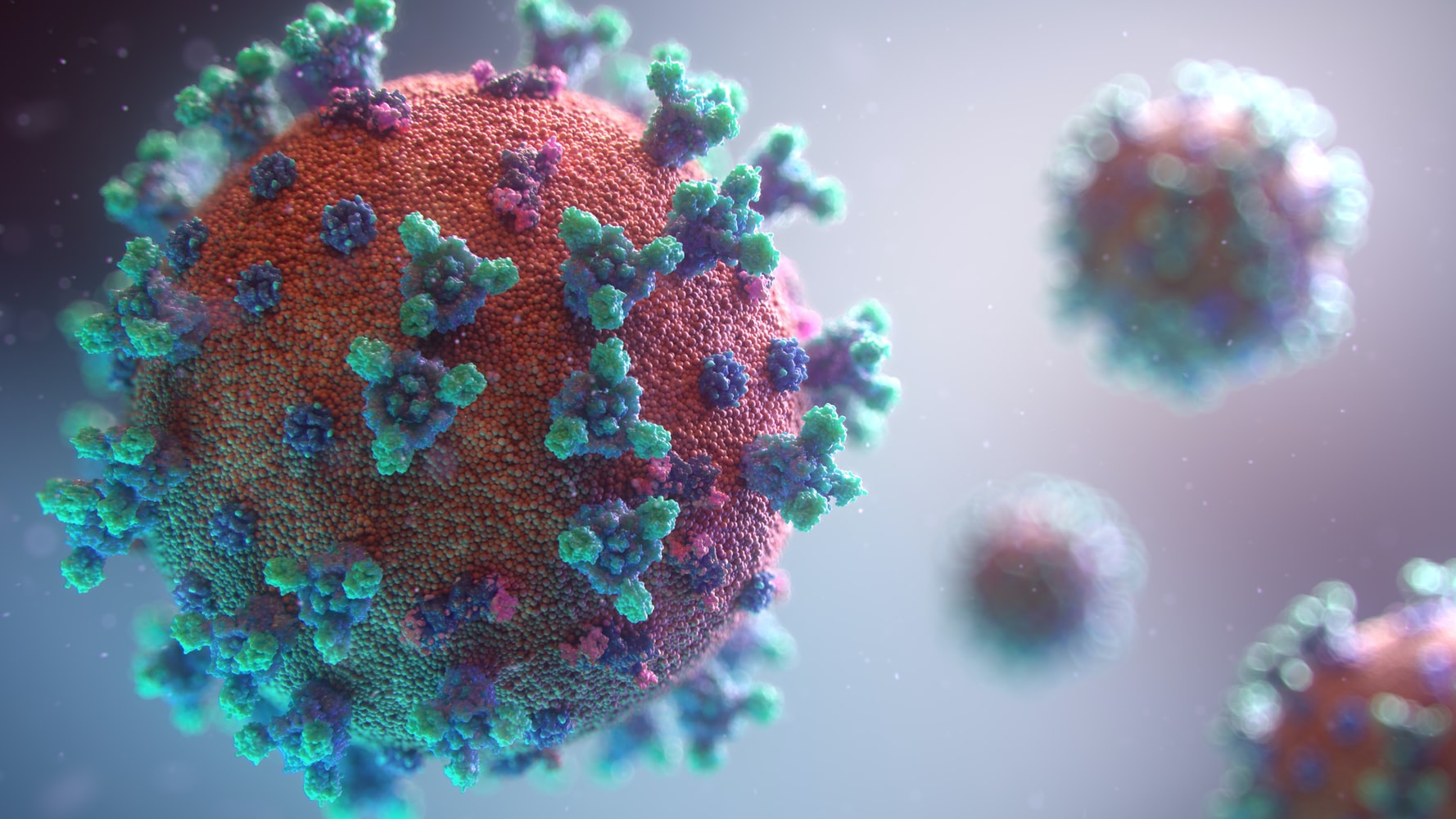 How does the coronavirus actually spread?
And if someone standing near you sneezes, those droplets travel through the air and can land in your eye, nose, or mouth, adds Nesochi Okeke-Igbokwe, MD, an internist and health expert. It can also land on a nearby surface, and if you touch that surface and then touch your face, you can infect yourself.
What remains a mystery, however, is how long the virus can live on various surfaces, in substances, and in the air. For this reason, and because so much transmission appears to be coming from asymptomatic carriers, experts recommend that people wear masks, not to protect themselves but to protect others, as well as wash their hands frequently and thoroughly.
Are there even superspreaders? Or are there just superspreader events?
What if it's not that some people are "better" at spreading the virus, but rather that some situations offer a better setup for a prolific spread? According to Dr. Okeke-Igbokwe, "superspreaders actually do exist, and these individuals tend to transmit the disease disproportionately and have the propensity to infect many people." However, she adds that "superspreader events" facilitate the spread of infection as well.
Why do some children develop multisystem inflammatory illness?
Some children have died of the syndrome, and now scientists are urgently trying to figure out what is causing some MIS-C, why it affects some but not others, and how best to prevent and/or treat it. "Treatment modalities for MIS-C are being researched at this time," Dr. Okeke-Igbokwe tells Reader's Digest, and so far, some children with the severe illness have responded to steroids or intravenous gamma globulin.
---
---
---
PlusTV talk show  #WAYS: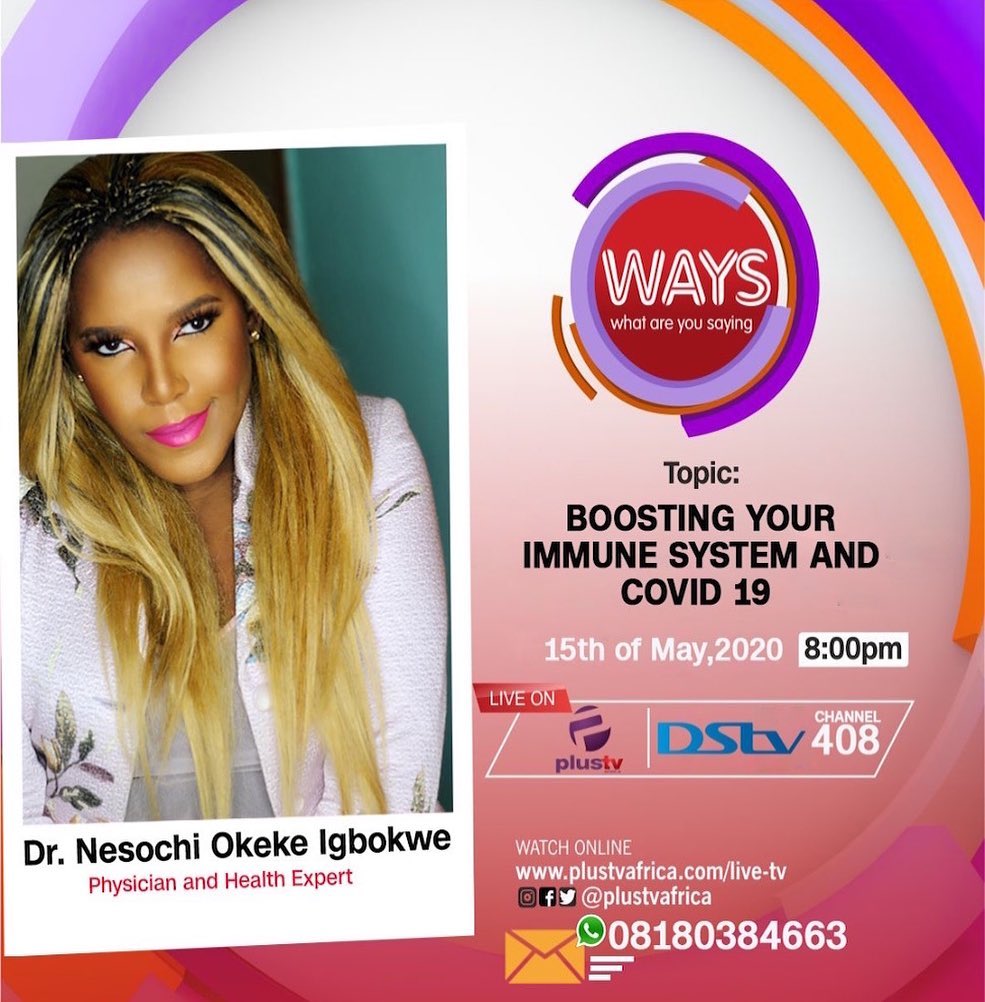 ICYMI —A few simple strategies to boost your immune system:
*** Get enough sleep 😴 every night *** Exercise 🏃🏽 routinely *** Reduce your stress levels *** If you are a smoker, quit smoking. *** Eat a well rounded diet rich in fruits 🍎 and veggies 🌽 …
---
---
---
CBS News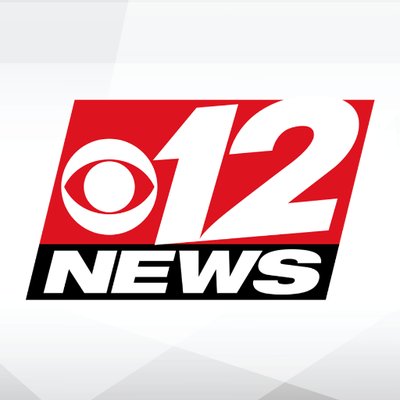 The New Us: Social and cultural changes that experts hope will continue post-pandemic
by Stefany Valderrama | Friday, May 8th 2020
Watch Now!:
WEST PALM BEACH, Fla. (CBS12) — As we look at the world and our lives impacted by COVID-19, some of the most profound changes we're experiencing are also some of the most human.
In just a few short weeks, fear of infection has forced us to reshape nearly every aspect of our lives.
"There will be no more handshakes. There are no more hugs. There are no more high-fives," said Dr. Nesochi Okeke-Igbokwe, Health and Wellness Expert.
It starts at hello. Human interaction is changing at a fundamental level thanks to Coronavirus.
"What we are seeing now is definitely going to move forward into our new normal," Dr. Okeke-Igbokwe told CBS12 News. "Even a year from now, two years from now, people are going to be reluctant to even give that handshake and it's going to be understandable because things have changed as a result of this pandemic."
Learn more on CBS12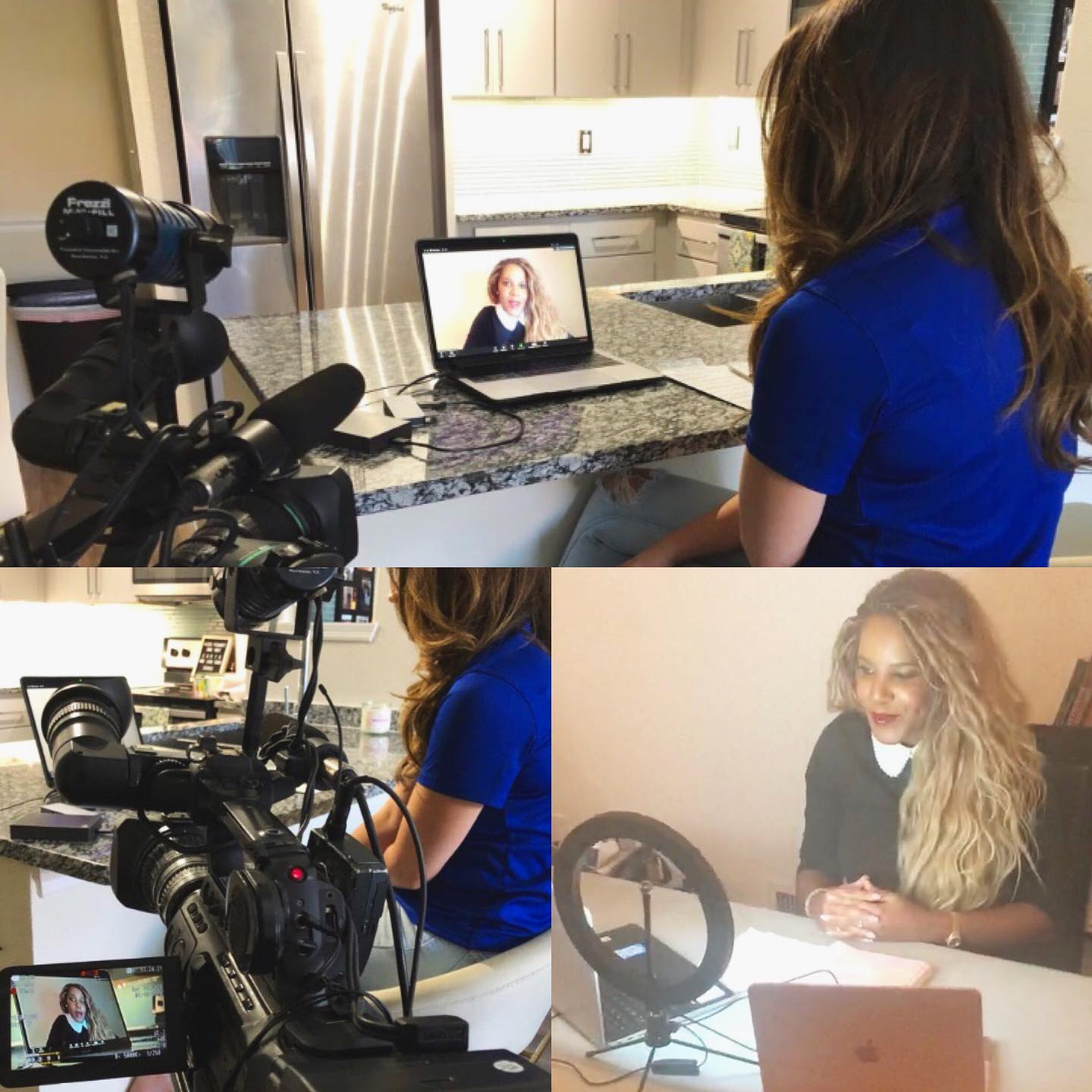 Dr. Nesochi interviewed by Stefany Valderrama  of CBS12 for coronavirus story on social and cultural changes post pandemic.
---
---
---

13 Things You Shouldn't Try to Do Yourself During Quarantine
by: Meghan Jones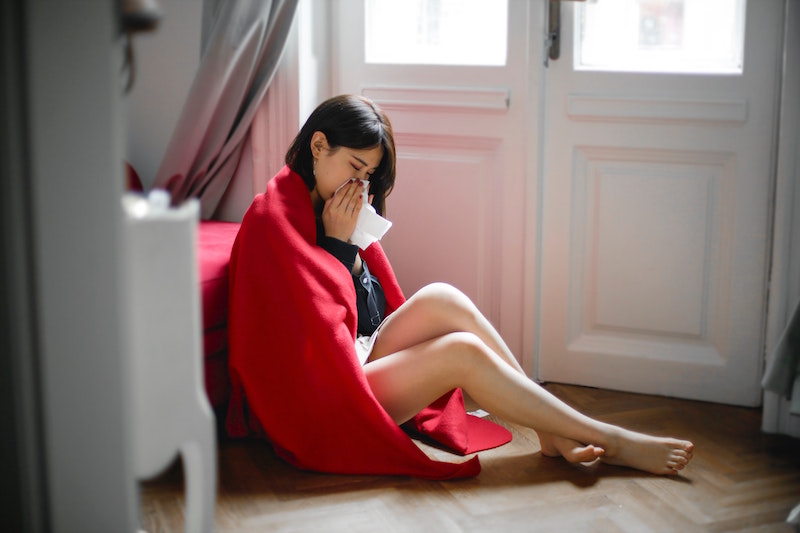 Self-diagnosing medical conditions:
There's a reason health care workers are essential! Nesochi Okeke-Igbokwe, M.D., warns that trying to diagnose, and, especially, treat, a health condition yourself can always be dangerous. Yes, right now you may—rightly—be reluctant to actually go to the doctor or urgent care and add to any burden on the health system. But that doesn't mean you should self-diagnose. If you have a genuine pressing concern about your health, you can still call your doctor. "Keep in mind that most doctors are offering virtual telemedicine services and many health insurance carriers are even waiving co-pays for these telehealth visits during the coronavirus pandemic," Dr. Okeke-Igbokwe says. "So if you have a health concern, you should touch base with your doctor."
---
---
---
PlusTV Video– Coronavirus Explainer (02/2020)
Watch now:
---
---
---

13 Everyday Habits That Could (and Should) Change Forever After Coronavirus
by: Elizabeth Yuko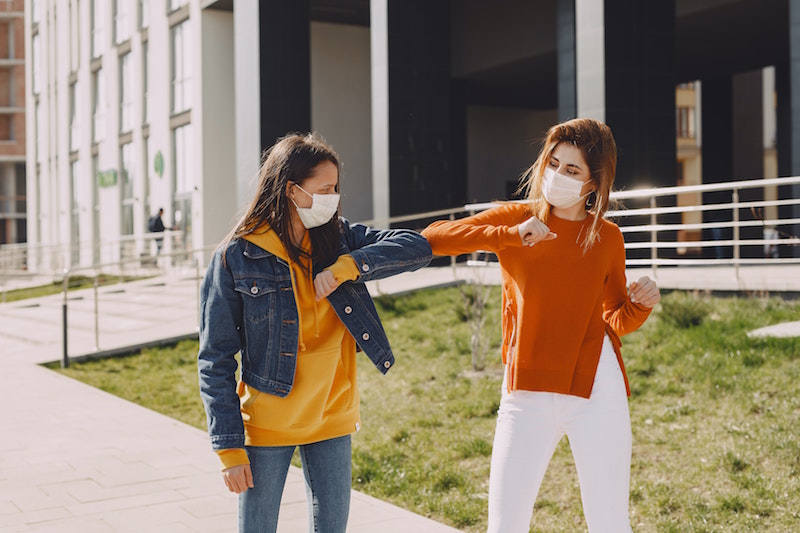 "In this new era of the coronavirus and the practice of social distancing, there will undoubtedly be a cultural shift in the way we all greet one another," Nesochi Okeke-Igbokwe, MD, an internist and health expert, tells Reader's Digest. "Shaking hands, high fives, hugs, and kisses are modes of greeting to be abandoned at this point. Social greetings may now entail a hand on the heart, a head nod, or pretty much any action that enables one to avoid direct touch or contact."
---
---
---
ARISE TV–The Morning Show (02/2020):
I spent the morning with the amazing ladies of Arise TV #TheMorningShow discussing  prevention strategies and also demystifying myths about COVID-19.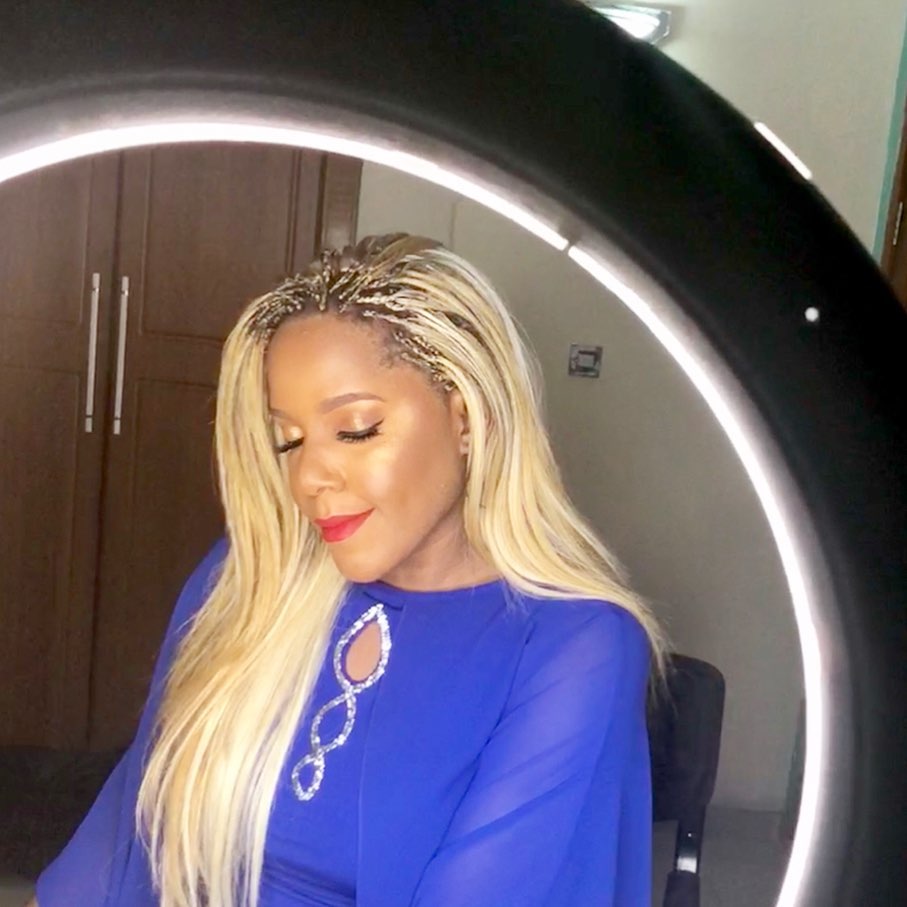 Morning glam & prep for the interview on Arise TV
Watch now:
---
---
---
SMOOTH 98.1 FM:
02/26/2020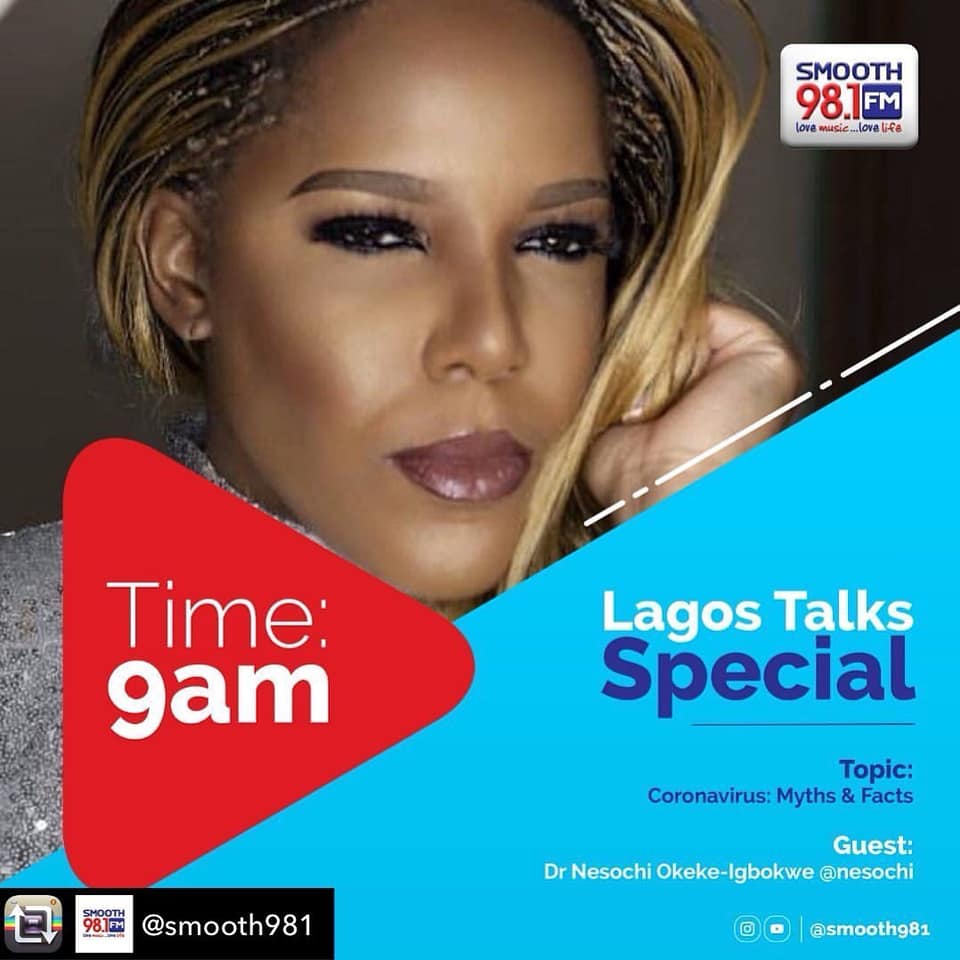 Watch now: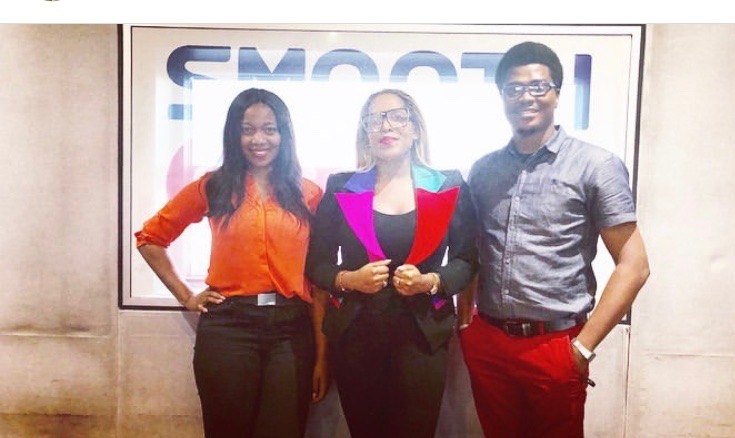 I joined hosts  @ayomairoese & @mazinoappeal  for a great interview  discussing myths and facts about Coronavirus.
---
---
---
PlusTV talk show  #WAYS: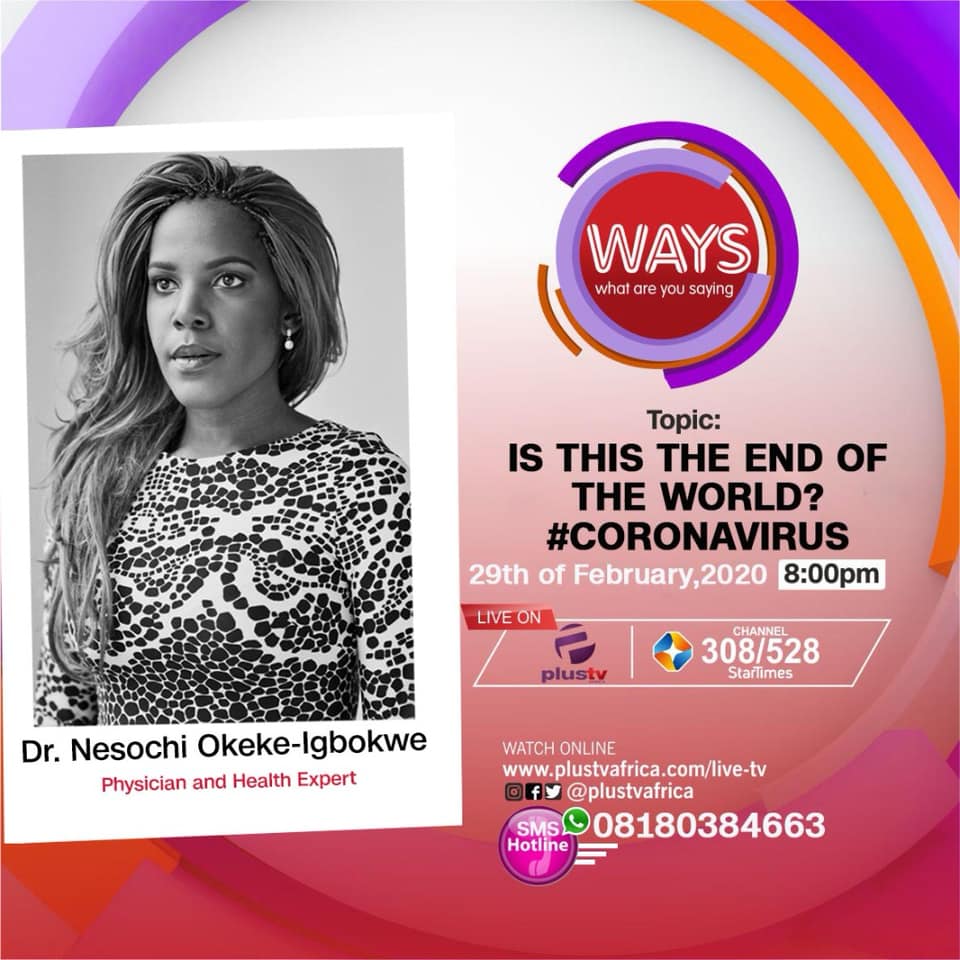 Watch now:
Truly had a blast on air and behind the scenes with the lovely ladies of the @plustvafrica #talkshow@waysshowafrica … 🙏🏽 thanks for a fantastic discussion!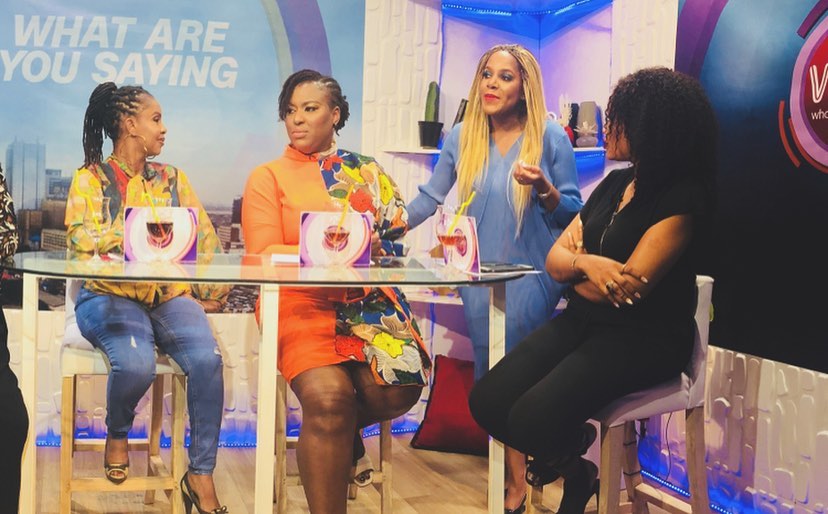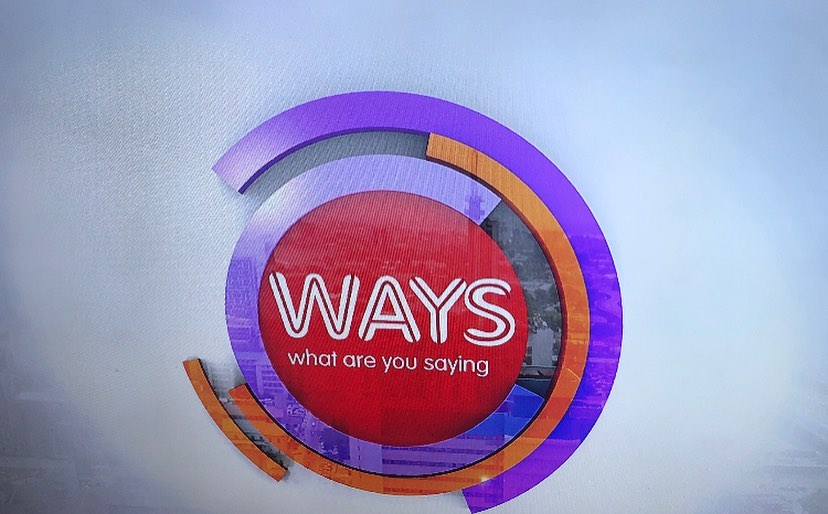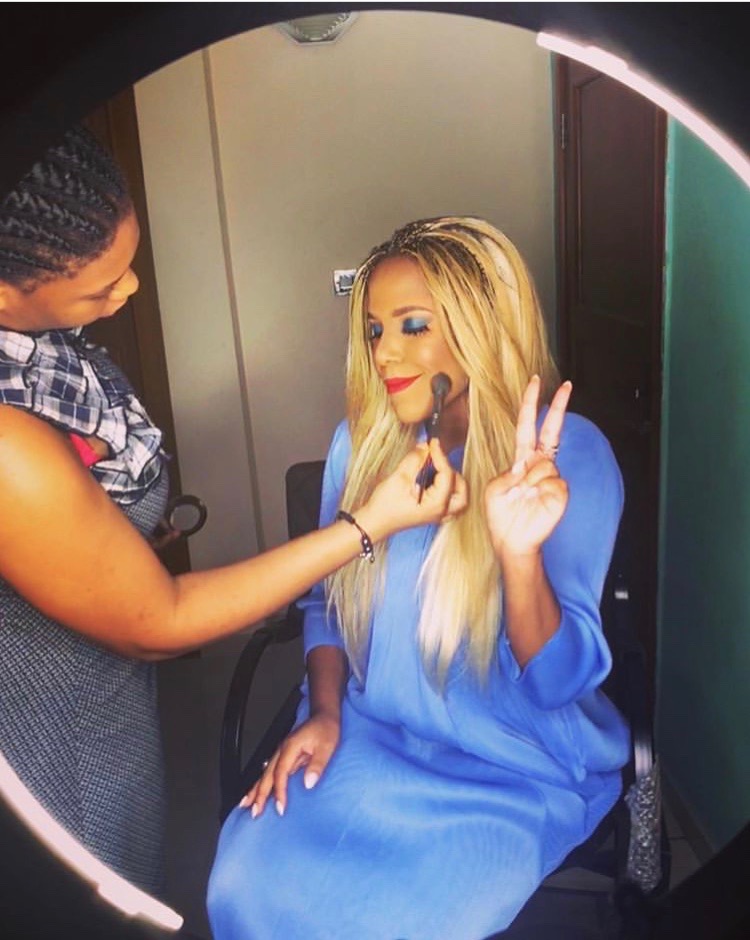 Morning glam…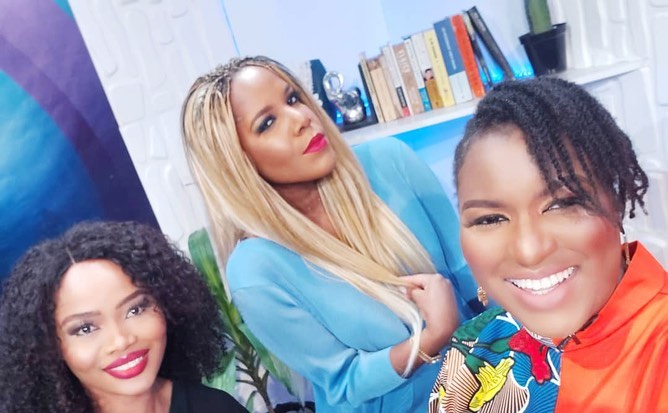 ---
---
---
PLUS TVAfrica News On The Hour:
02/2020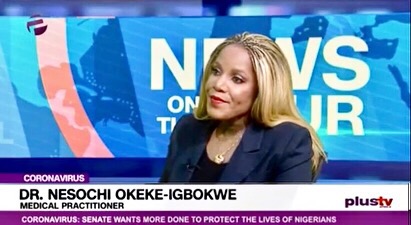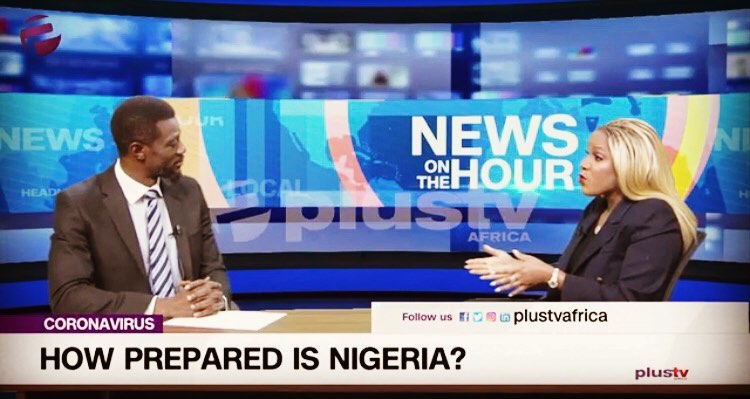 Is Nigeria 🇳🇬 actually prepared for the CoronaVirus? I discussed this and more on #NewsOnTheHour
Watch now:
morning glam…
---
---
---
RadioOne: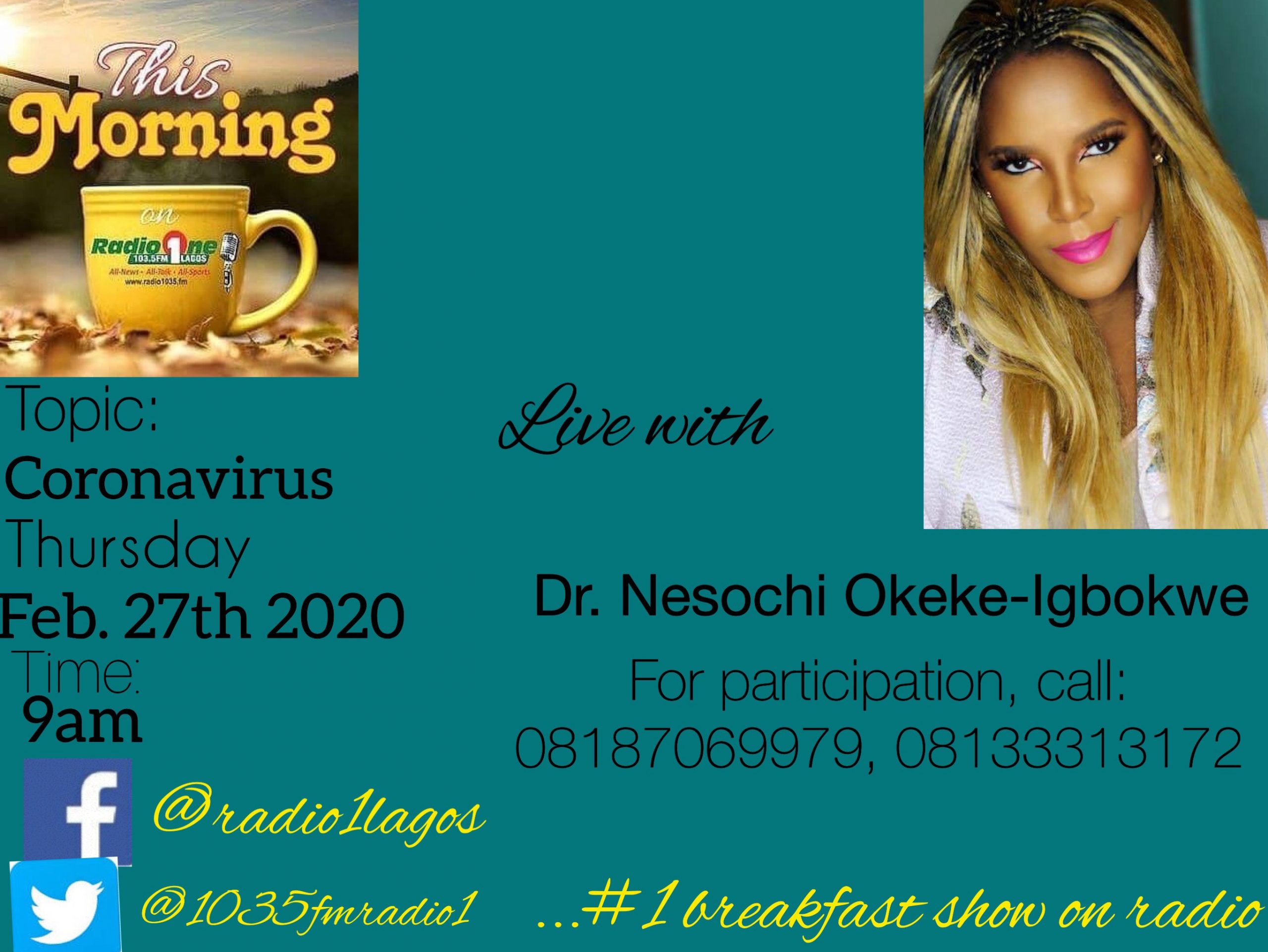 Great #radio interview on #TheBreakfastShow … talking more about the #coronavirus, followed by some commercial voice overs with my #health tips for prevention!
Q: Is there treatment or a vaccination available now for the coronavirus?
Watch now:
---
---
---
ARISE Xchange NYC:
03/2020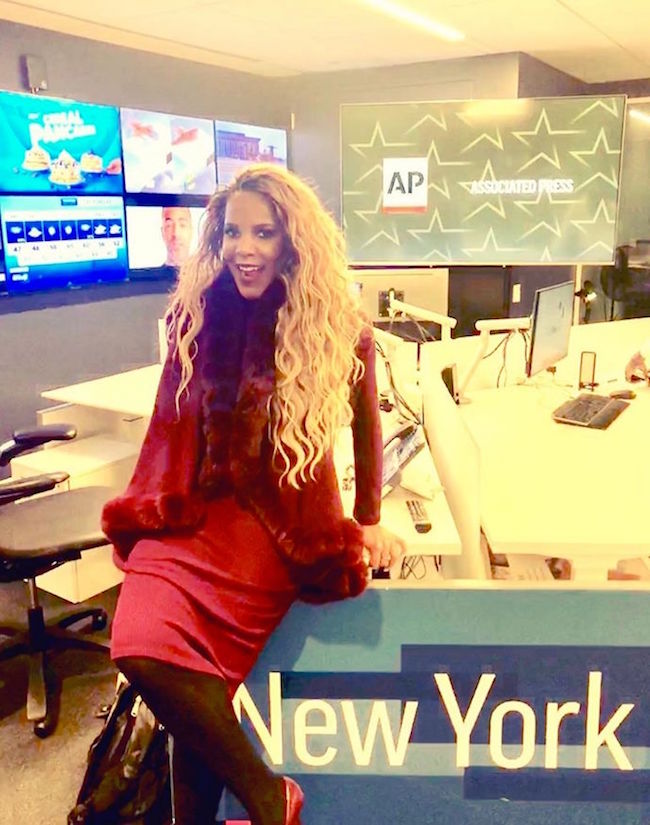 As more cases continue to emerge globally, try not to panic and really focus on #prevention strategies… Maintain proper hygiene habits:
***Wash your hands frequently with soap and water (at least for 20 seconds)
***COVER YOUR COUGH
***Avoid touching your mouth, nose, and eyes
****Avoid those who are sick
*** Don't go to school/work if you are sick!!!